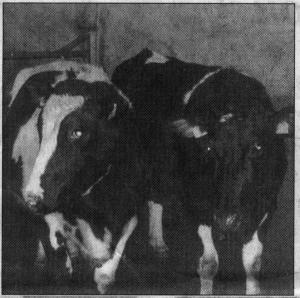 The Killaraght and Cloonloo areas recently raised EUR5,340 for Bothar following a major fundraising campaign which was initiated last January.
A meeting took place on January 6th and it was decided to invite a representative from Bothar to speak at a meeting. Robert Downes travelled from Limerick on February 13th to Killaraght Hall and gave a very informative talk. Bothar required in-calf Friesian heifers for their next shipment to Kosovo in March to provide help for recovering families in the aftermath of war.
As the old saying goes ''a good beginning is half the battle'' and scarcely had the fund raising commenced, when a donation of an AA nine month old heifer from a Killaraght farmer and a very generous donation of fifteen hundred euro from a Cloonloo benefactor were received.
It was decided that every person who gave a donation, would have their name entered in a draw for the AA heifer. An information leaflet was distributed to every family in Killaraght.
The search for a suitable heifer commenced. Phone calls were made, scouts were out at marts and meetings, the Farmers Journal was purchased and, just to be on the safe side, Novenas were said. Finally the quest ended on Vincent Kilcullen's farm in Bonniconlon.
Meanwhile the donations were pouring in. Not only did they come from the local area. but from Ardsallagh, Ardcarne, Boyle, Breedogue, Ballymore, Ballaghaderreen, Dublin, Frenchpark, Galway, Kildare, and Monasteraden and other areas too numerous to mention. Killaraght had suddenly become a very big area!
Such was the enthusiasm in Killaraght that it spilled over into CIoonloo where they also decided to send a heifer to Kosovo. Not for the first time the two communities joined forces in a local project. The CIoonloo heifer was also purchased from Mr Kilcullen.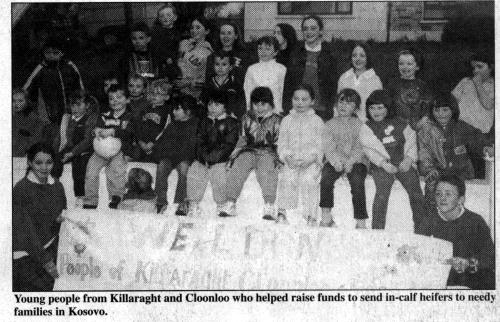 The final meeting took place on March 20th. A grand total of e5,340 had been donated. This was enough to send four animals. It was decided to send two now on the shipment to Kosovo and the other two on the next shipment in October to Malawi.
The heifers made a brief stop over on their way to Limerick as people were eager to see them.
The airlift of Irish in-calf heifers to poor farming families in Kosovo went off successfully. The heifers have now been delivered to their new families. One year ago these families would not have believed that they would have been given a good dairy heifer and a chance to secure their future.
On Sunday, April 6th after a Mass of Thanksgiving in Killaraght Church the draw took place for the heifer and the lucky winner was Phyllis Carroll, Aughalustia, Ballaghaderreen.
Everyone is sincerely thanked for their Christian generosity. Mr TJ Maher Chairman of Bothar said. ''You can be sure that all your gift will go directly to form a life-Iine for a poverty stricken family''.
-- Roscommon Herald, 23rd April, 2003.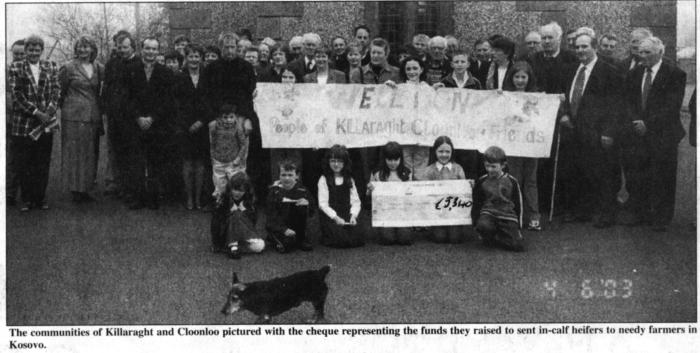 ---
Related to this article is John Knott's account of his personal donation of a goat (named Attracta) to a Tanzanian family via the Bothar project.